Let's dig a little deeper than what you see of the farm in the documentary. Here are some little known facts and trivia:
The farm has been in our family since 1685. You read that correctly. The Esselstyn Family Farm has been in our family since before there was a United States of America! Claverack, New York, wasn't even established as a town until 1788—so our family was apparently well ahead of the trend, passing this beloved property from generation to generation.
Its age places the Esselstyn Family Farm in very select company. Going back to 1685 means adding up a lot of years for a farm to stay in one family. And it is extremely unusual. In fact, it's one of only two farms in the entire state of New York to have been owned and operated by the same family for over 300 years.
The farm still yields a crop each year. That's right—we currently grow organic barley, rye, and wheat on the farm.
Claverack is centrally located. You may not have heard of Claverack, New York, before—many people haven't! But it's actually centrally located to a large part of the United States. In fact, it's less than a two-hour drive from both New York City and Boston, and it's within an eight-hour drive of major cities like Buffalo, Philadelphia, Cleveland, Detroit, and more!
Our family spends a great deal of time here. My parents spend the entire summer at the farm. It was a wonderful place for my siblings and I to grow up! In fact, we love taking our kids to the farm to spend quality time together as a family every summer.
Our BIG ANNUAL EVENT was held here for six years: Plant-Stock! When we were thinking of a way to bring together the entire whole-food, plant-based "family" to celebrate another year of plant-strong living, there seemed like no better place than the farm. Crafted with a unique lineup of speakers and activities that embody the spirit of "Forks Over Knives," Plant-Stock reinforces why we are all on this plant-strong journey together.
It was a thrill to showcase the farm at our in-person events and loved when guests were in awe that they were actually at THE farm from "Forks Over Knives." And now that you're armed with insider knowledge and history on the farm, you'll be ready to impress your friends with some plant-strong trivia!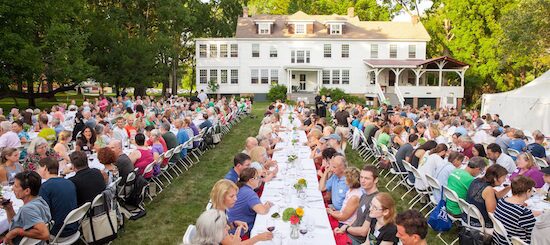 Rip Esselstyn Bio:
As the founder of Engine 2, Rip develops and implements a range of programs and events geared toward education, inspiring and nurturing plant-strong living for individuals, families, and organizations across the globe.
He has appeared on hundreds of radio and national television shows, including the Today Show, CBS Sunday Morning, Good Morning America and The Dr. Oz Show. Rip is a New York Times Bestselling Author who has published four books. His most recent book is The Engine 2 Cookbook.
He is the host of the "New & Noteworthy" Plant-Strong Podcast where each week he shares conversations showcasing the latest science and practical applications of a plant-based diet as a means to achieve optimal wellness.
Rip is an executive producer of The Game Changers film; a revolutionary documentary that shatters the myths about meat, protein, and strength. Rip broke the World Record in the 200 meter backstroke for men 55-59 in July of 2019.
Rip lives in Austin, Texas with his wife Jill, and their three beautiful children.
Interested in booking Rip for a speaking engagement? Click HERE.